Worthwhile Ventures Brochure
Description
Investments are available to qualified individuals and commercial investors. Finance Industry regulators require all investment inquiries to be tracked so please request access to downloadable investor materials on this system by reaching out to us at:
By Email: info@worthwhileinc.com or by Phone:  +1 (289) 835-3461
---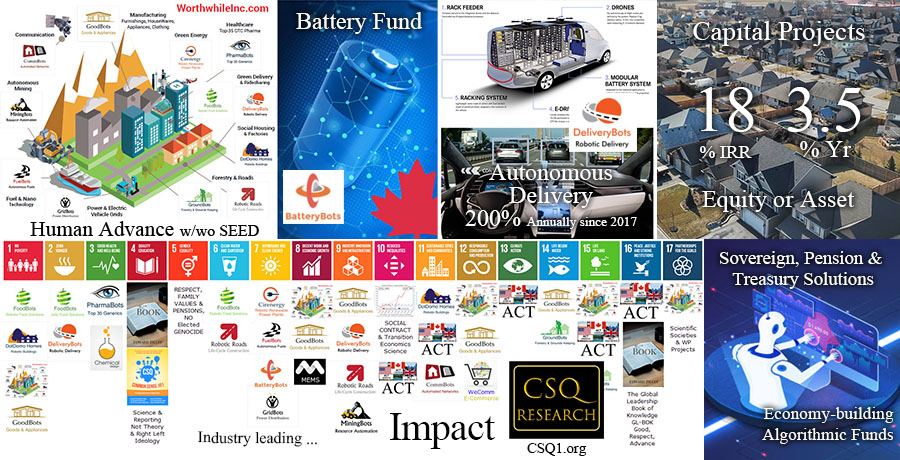 Worthwhile Industries Funds assemble the largest company in the world in a Finance Industry-led engineering plan. Sold as individual one-off companies and campuses, these companies plug into one another and create a reliable supply chain infrastructure for every economy, country, climate, and topography in the world. From the smallest island to the largest continent, Worthwhile Industries delivers basics of life in an engineering plan built to ensure reliable self-sufficiency and World Peace.
Investors here are building strong economies and SDG (Sustainable Development Goals) Impact aimed at correcting 25 years of financial malpractice in M&A industry consolidation and unproductive asset investment that now threatens portfolio valuations, broad social, and economic collapses. 90% of large democracies are collapsing today. Accounting-driven, risk-driven analytic trickledown investments have ignored the $30 billion lost daily to the broader economy in the US ($4 billion daily is the average economic loss to 207 countries today) while they created bubbles, runaway debt, inflation, opportunity-quelling financial inequality, and supply-chain insecurity and monopolies.
Import Policies have been a challenge for Canadian start-ups until China now globally controls 80% of lithium raw material refining, 77% of lithium cell capacity, and 60% of lithium component manufacturing. Their success is a tribute to the power of focus: lending national support and a strong leadership model. This is the opportunity that's here for Canadian companies – to grow aggressively by emulating what they do.
Worthwhile Industries Funds builds a supply chain presence in all technology industries with revenues that can grow alongside government support programs, to build good lives and prosperity in every nation.